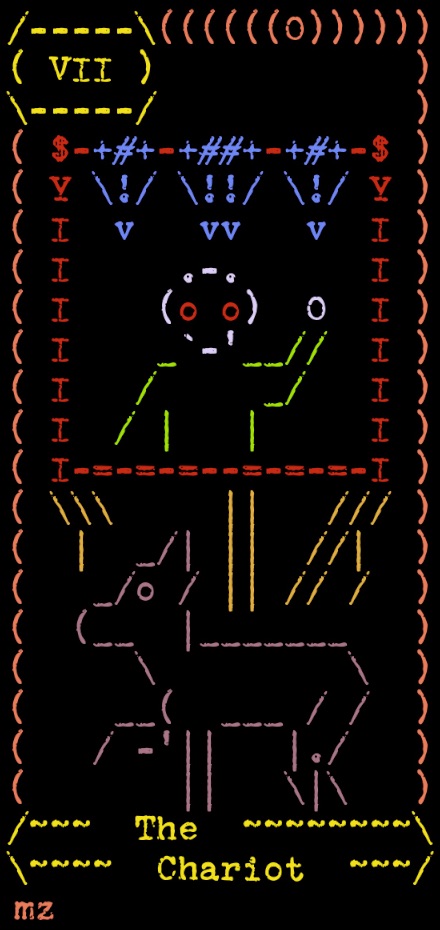 Example DNS response: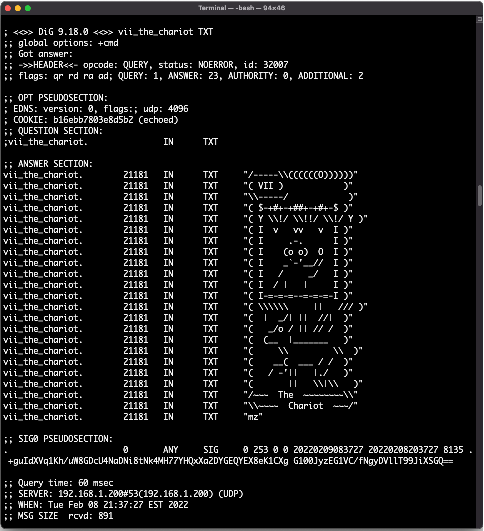 Click here for more ways to see this art using DNS queries.
vii_the_chariot
The mighty Chariot gallops across the land, a terrifying machine of victory. The Chariot introduces technology to The Tarot, and the command over beasts. To the land it tramples on, The Chariot may be an unwelcome conquering force. To the passenger of the vehicle, it may be a means of escape. This card has vibrant energy and a sense of adventure. It portrays a battle between confidence and fear. Like its counterpart xvii_the_star, The Chariot represents action in the world. The Chariot makes a decision, commits to an action and endures the consequences.
View on Niami
---
Decentralized Auction
The auction for vii_the_chariot will begin:
Wed, 16 Mar 2022 12:00:00 UTC
The opening price for all Handshake Tarot auctions is:
100,000 HNS
The price drops every SIX HOURS until stopping at the reserve price of:
600 HNS

At least 50% of all auction proceeds from The Handshake Tarot will be donated to the HNS Development Fund to promote creative content on Handshake domain names.

Shakedex auctions REQUIRE Bob Wallet.
Learn more about The Handshake Tarot auctions.

View on Shakedex Open in Bob Wallet
If this button does not work, you can download the auction file (right click, "save as..."). Then open your desktop Bob Wallet, go to the "Exchange" screen and click "Upload Auction File". Select the downloaded auction file to buy this NFT at the current auction price:
Download Auction