Free color prints for auction winners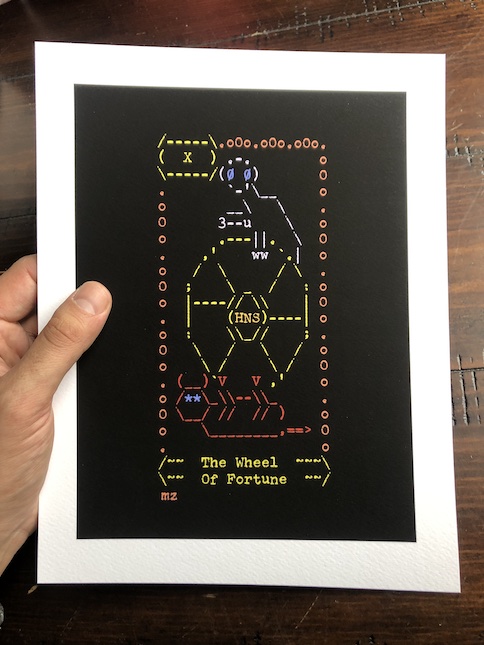 One color print of each card will be shipped free to the first delivery address signed by each name and submitted via this form. Prints are not available for purchase.
Prints are 8.5" x 11" printed on 100% cotton, acid-free, textured fine art paper.
---
If you won a Handshake Tarot domain name from a Shakedex auction, or if one has been transferred to you, you can use Bob Wallet or hsd to sign a message to the artist using the Handshake Tarot domain name itself!
See a demonstration of this function on YouTube.

Once the name auction or transfer is FINALIZED, open Bob Wallet.
In the left sidebar menu find "Sign Message."
Use the "Select Name to Sign" menu to select your Handshake Tarot card name.
In the "Message" area type your full name and shipping address.
Click "Sign Message." You will be prompted for your wallet passphrase.
A blob of random-looking text will appear in the "Signature" area. Click "copy" and paste this blob into the "Signature" field in this form. Make sure there are no extra spaces.
Copy the message exactly as it was signed and paste that into the "Message" field in this form. Do not add any extra spaces or new lines.
Click submit! Thank you!
Can you verify this signed message?
Name:
thehandshaketarot
Message:
A complete set of 22 Handshake domain names with ASCII-art Tarot cards embedded on the blockchain and served by the HNS root zone as TXT records.
Signature:
deS2Vagvpvh78zxWzyDZlRoUTxmNZ2vFBYJbrmjQOC9E1d0TXtLlNDTIYo7MErEMVH9SuhEn+NcxvjEOF43BUw==