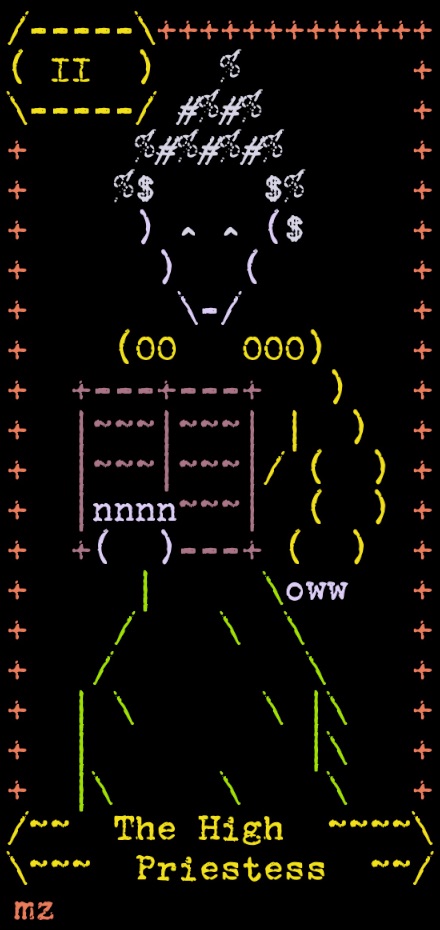 Example DNS response: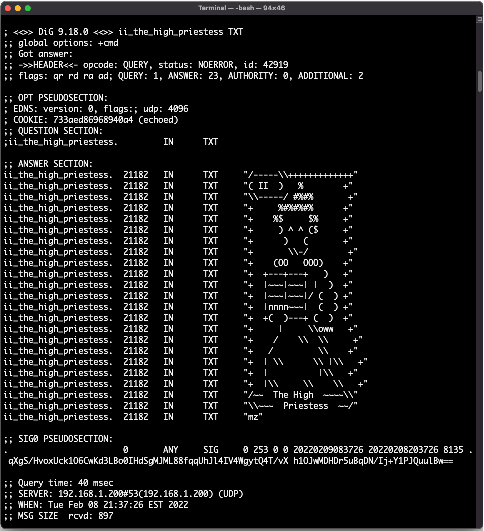 Click here for more ways to see this art using DNS queries.
ii_the_high_priestess
The High Priestess is a motherly figure but she lacks the warmth and love we might expect. She carries a book of laws and rules, simple guidelines perhaps. She expects us, her children, to conform to the structure that society has developed and passed down to her from her mother. She wants us to know what she knows, but she does not expect us to live exactly how she has lived. She has a unique face - like no other character in The Handshake Tarot. She provides us with a unique source of growth and gestation. It is still quite early in The Tarot, and we need to learn the boundaries of this world. The High Priestess represents that moment in our early lives when we were undefined. She was there when we were the most pure, the most innocent and the most safe. What messages were inscribed inside our minds at that time? How has her long experience prepared us for our lives?
View on Niami
---
Decentralized Auction
The auction for ii_the_high_priestess will begin:
Wed, 16 Mar 2022 00:00:00 UTC
The opening price for all Handshake Tarot auctions is:
100,000 HNS
The price drops every SIX HOURS until stopping at the reserve price of:
600 HNS

At least 50% of all auction proceeds from The Handshake Tarot will be donated to the HNS Development Fund to promote creative content on Handshake domain names.

Shakedex auctions REQUIRE Bob Wallet.
Learn more about The Handshake Tarot auctions.

View on Shakedex Open in Bob Wallet
If this button does not work, you can download the auction file (right click, "save as..."). Then open your desktop Bob Wallet, go to the "Exchange" screen and click "Upload Auction File". Select the downloaded auction file to buy this NFT at the current auction price:
Download Auction