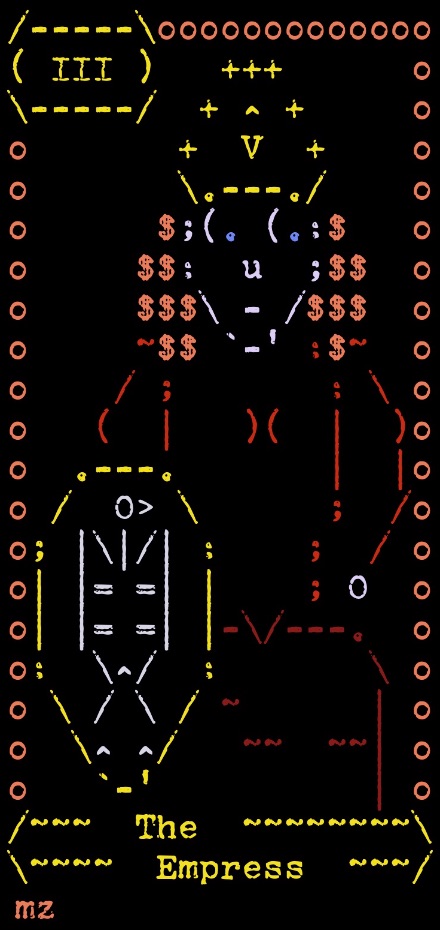 Example DNS response: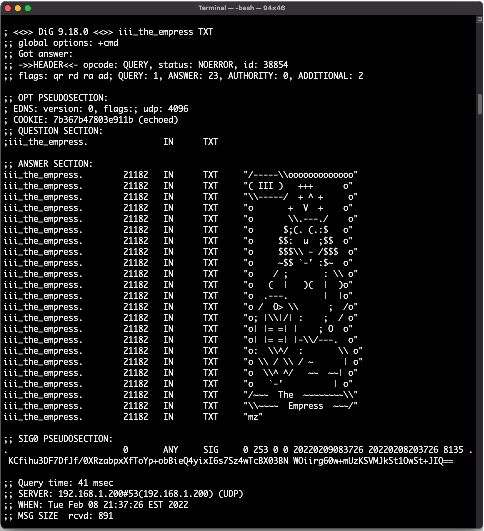 Click here for more ways to see this art using DNS queries.
iii_the_empress
The Empress is a fertile, energetic figure. The numerology of threeness represents parents and a child, birth, generation. She wears a mighty golden crown and carries a shield depicting a wild eagle. Her eagle is connected with her male counterpart in iiii_the_emperor. They are complements, a balanced pair. She is the warmth missing from The High Priestess, a compassionate and sexual person. If the story of The Tarot was begun in arcanum one and gestated in arcanum two, we arrive at arcanum three ready to burst with energy. The Empress wants us to embrace our wild animal spirits and set them free, like the golden curly hair bursting from beneath her crown. She has large, open eyes and a committed desire to understand the world.
View on Niami
---
Decentralized Auction
The auction for iii_the_empress will begin:
Wed, 16 Mar 2022 06:00:00 UTC
The opening price for all Handshake Tarot auctions is:
100,000 HNS
The price drops every SIX HOURS until stopping at the reserve price of:
600 HNS

At least 50% of all auction proceeds from The Handshake Tarot will be donated to the HNS Development Fund to promote creative content on Handshake domain names.

Shakedex auctions REQUIRE Bob Wallet.
Learn more about The Handshake Tarot auctions.

View on Shakedex Open in Bob Wallet
If this button does not work, you can download the auction file (right click, "save as..."). Then open your desktop Bob Wallet, go to the "Exchange" screen and click "Upload Auction File". Select the downloaded auction file to buy this NFT at the current auction price:
Download Auction