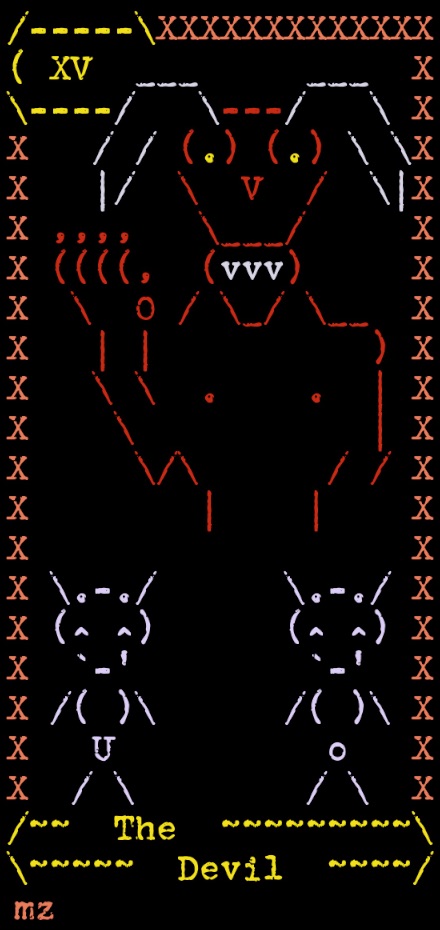 Example DNS response: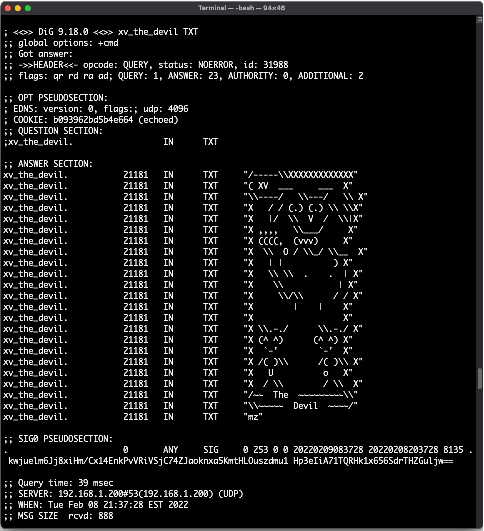 Click here for more ways to see this art using DNS queries.
xv_the_devil
It's amusing how much The Devil resembles the pope in v_the_hierophant. Both wield hypnotizing power over two servants. The servants of The Devil are naked and have revealed their sexes, however they do not appear to be entirely human. The Devil is dangerous and sharp. He dwells in a dark place inside us, guarded by a fence of barbed wire. He is the only character who breaches the border of the card. He seems to be reaching out of the card and toward us with his red claw. The Devil represents an irresistible energy, but it can be positive like creative passion. When we see The Devil we know something inside us is too strong to ignore.
View on Niami
---
Decentralized Auction
The auction for xv_the_devil will begin:
Thu, 17 Mar 2022 06:00:00 UTC
The opening price for all Handshake Tarot auctions is:
100,000 HNS
The price drops every SIX HOURS until stopping at the reserve price of:
600 HNS

At least 50% of all auction proceeds from The Handshake Tarot will be donated to the HNS Development Fund to promote creative content on Handshake domain names.

Shakedex auctions REQUIRE Bob Wallet.
Learn more about The Handshake Tarot auctions.

View on Shakedex Open in Bob Wallet
If this button does not work, you can download the auction file (right click, "save as..."). Then open your desktop Bob Wallet, go to the "Exchange" screen and click "Upload Auction File". Select the downloaded auction file to buy this NFT at the current auction price:
Download Auction