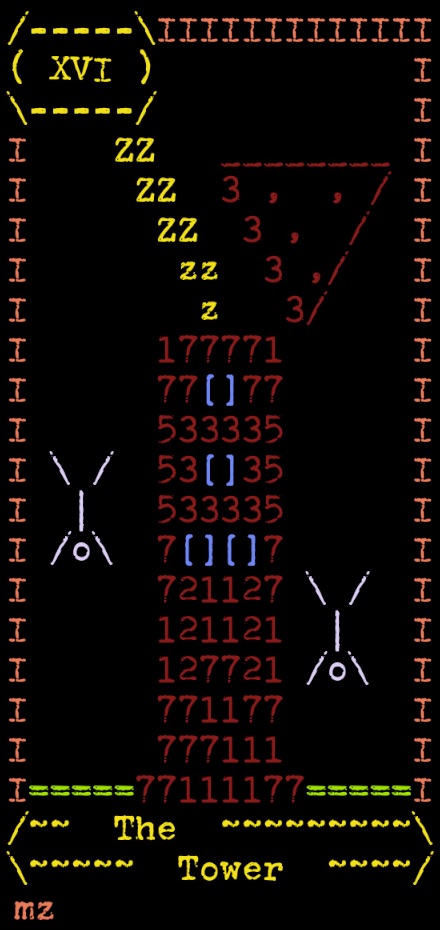 Example DNS response: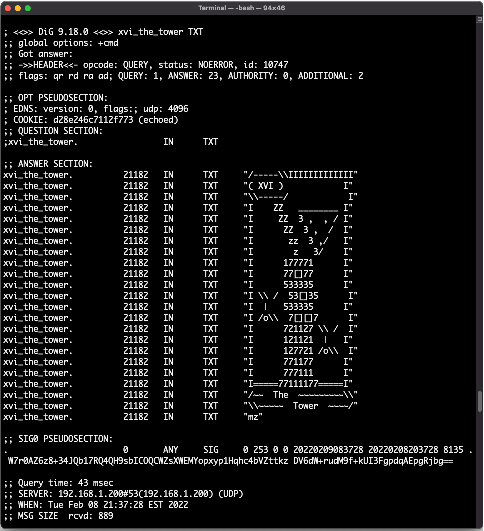 Click here for more ways to see this art using DNS queries.
xvi_the_tower
The Tower symbolizes a mighty feat of human engineering and power. Constructed from all the single-digit prime numbers in the ASCII palette, it is rooted in a serious foundation and built to last. But alas, it did not last. Has lightning from the heavens struck The Tower? Blasting its crown apart and sending its inhabitants tumbling toward the ground? Or are we seeing a burst of energy explode from the top of The Tower, projecting boundless energy upward to the sky? We could be seeing a celebration, in which dancers perform handstands. Either way, something is being unleashed. Tension has been released either upward or downward. A container has been compromised.
View on Niami
---
Decentralized Auction
The auction for xvi_the_tower will begin:
Thu, 17 Mar 2022 06:00:00 UTC
The opening price for all Handshake Tarot auctions is:
100,000 HNS
The price drops every SIX HOURS until stopping at the reserve price of:
600 HNS

At least 50% of all auction proceeds from The Handshake Tarot will be donated to the HNS Development Fund to promote creative content on Handshake domain names.

Shakedex auctions REQUIRE Bob Wallet.
Learn more about The Handshake Tarot auctions.

View on Shakedex Open in Bob Wallet
If this button does not work, you can download the auction file (right click, "save as..."). Then open your desktop Bob Wallet, go to the "Exchange" screen and click "Upload Auction File". Select the downloaded auction file to buy this NFT at the current auction price:
Download Auction