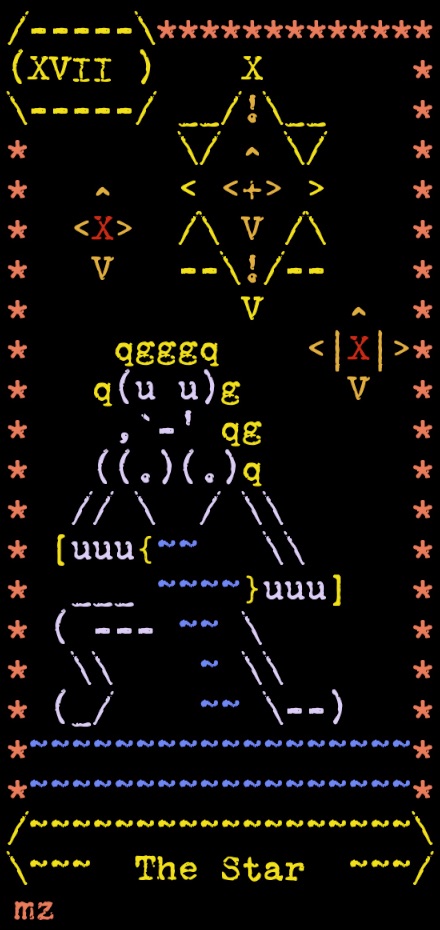 Example DNS response: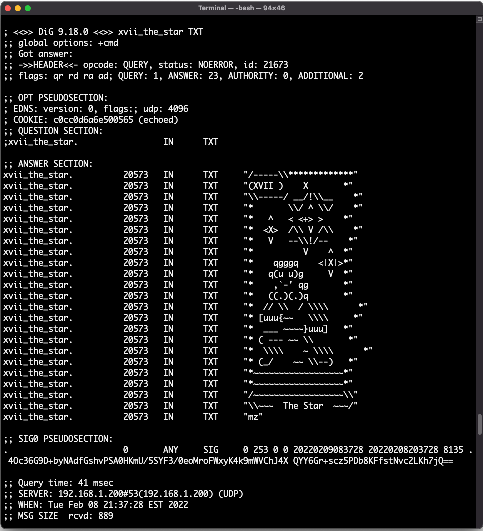 Click here for more ways to see this art using DNS queries.
xvii_the_star
A naked woman kneels by a stream under the glittering night sky. Her toe casually drags into the water as she pours her own water from two goblets into the stream. Above her, several stars shine with their guiding light. The Star in this image is not in the sky, but is the woman herself. She represents action. She is influencing the world, changing it. She brings something of her own to an infinite flow and literally pours herself into it. The Star is linked by ten to vii_the_chariot, the other arcanum of action. The starlight from the heavens is her guide, and she kneels precisely where she is supposed to be, her place, her time, her voice into the wind.
View on Niami
---
Decentralized Auction
The auction for xvii_the_star will begin:
Thu, 17 Mar 2022 06:00:00 UTC
The opening price for all Handshake Tarot auctions is:
100,000 HNS
The price drops every SIX HOURS until stopping at the reserve price of:
600 HNS

At least 50% of all auction proceeds from The Handshake Tarot will be donated to the HNS Development Fund to promote creative content on Handshake domain names.

Shakedex auctions REQUIRE Bob Wallet.
Learn more about The Handshake Tarot auctions.

View on Shakedex Open in Bob Wallet
If this button does not work, you can download the auction file (right click, "save as..."). Then open your desktop Bob Wallet, go to the "Exchange" screen and click "Upload Auction File". Select the downloaded auction file to buy this NFT at the current auction price:
Download Auction