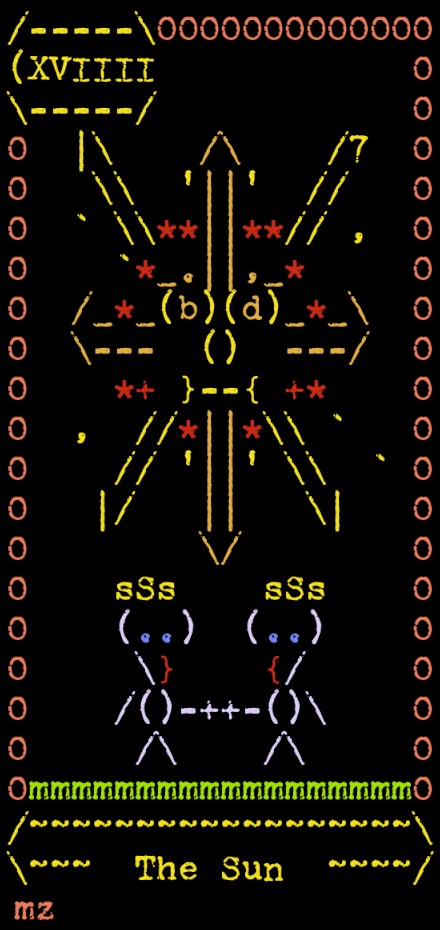 Example DNS response: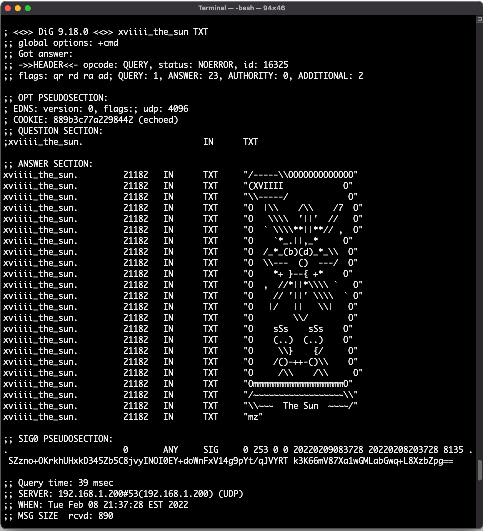 Click here for more ways to see this art using DNS queries.
xviiii_the_sun
The Sun is an eternal explosion of power and light. The light of The Sun reflects from every surface and fills our eyes. The glowing fireball in the image is staring directly at us, the reader of The Tarot. It never runs out of unconditional love. If xviii_the_moon represents the compassionate mother, The Sun represents the supportive father. The Sun glows on all life, all plants and all animals. It feeds the green grass which in turn feeds the twin humans we see embracing on this bright sunny day. As a subtle reminder that The Sun's rays explode through the galaxy, the additive Roman numeral for nineteen explodes through the border of the cartouche in the top left corner. This is an energy that can break through almost anything, if the timing is right.
View on Niami
---
Decentralized Auction
The auction for xviiii_the_sun will begin:
Thu, 17 Mar 2022 12:00:00 UTC
The opening price for all Handshake Tarot auctions is:
100,000 HNS
The price drops every SIX HOURS until stopping at the reserve price of:
600 HNS

At least 50% of all auction proceeds from The Handshake Tarot will be donated to the HNS Development Fund to promote creative content on Handshake domain names.

Shakedex auctions REQUIRE Bob Wallet.
Learn more about The Handshake Tarot auctions.

View on Shakedex Open in Bob Wallet
If this button does not work, you can download the auction file (right click, "save as..."). Then open your desktop Bob Wallet, go to the "Exchange" screen and click "Upload Auction File". Select the downloaded auction file to buy this NFT at the current auction price:
Download Auction