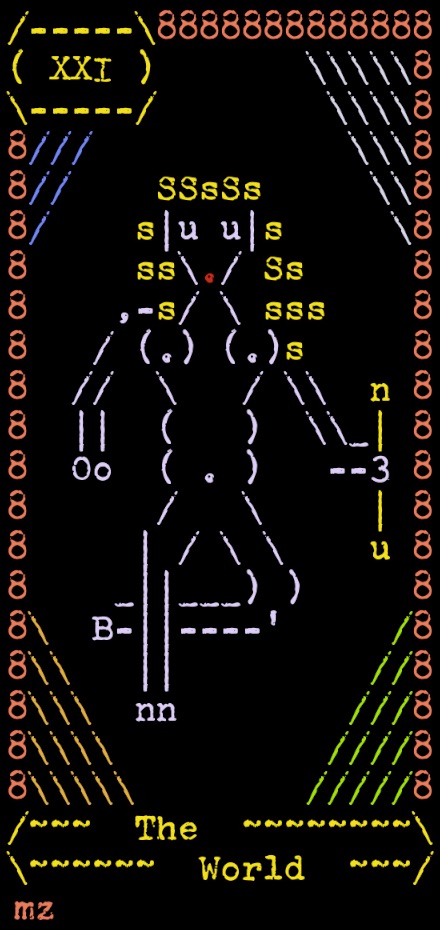 Example DNS response: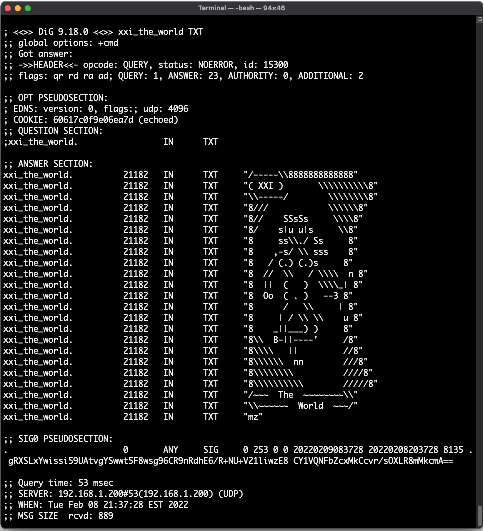 Click here for more ways to see this art using DNS queries.
xxi_the_world
The World is the end of The Major Arcana. A sign of completeness and fulfillment. A final realization of our journey through The Tarot, our transformation. We see a woman dancing with a golden wand in her hand, matching the sparkling radiance of her golden hair. She is surrounded by the essences of the four suits of The Tarot, matching the symbols on the table in front of i_the_magician: blue emotional power, grey intelligence, green creative energy and golden health. The entire scene can be seen as very birth-like. A perfect, naked human emerging from an oval of life. Is The World coming toward us? Or is she standing at the final gateway, floating in space and beckoning us forward to the breach? She is complete, flawless, finished. But she also represents a limit, an ending. You cannot arrive at The World until your work is done and your self-reflection is complete. Her foot is the only occurrence of the capital letter B in The Handshake Tarot.
View on Niami
---
Decentralized Auction
The auction for xxi_the_world will begin:
Thu, 17 Mar 2022 18:00:00 UTC
The opening price for all Handshake Tarot auctions is:
100,000 HNS
The price drops every SIX HOURS until stopping at the reserve price of:
600 HNS

At least 50% of all auction proceeds from The Handshake Tarot will be donated to the HNS Development Fund to promote creative content on Handshake domain names.

Shakedex auctions REQUIRE Bob Wallet.
Learn more about The Handshake Tarot auctions.

View on Shakedex Open in Bob Wallet
If this button does not work, you can download the auction file (right click, "save as..."). Then open your desktop Bob Wallet, go to the "Exchange" screen and click "Upload Auction File". Select the downloaded auction file to buy this NFT at the current auction price:
Download Auction